biography
Dick Kemper's Biography
More than 200 CD albums have been conceived at Dick Kemper's S&K Studio, situated at the egde of the city of Doetinchem. In the technically advanced studio, his qualities as a musician, composer, producer and engineer come to their full fruition.

The studio, in it's present form has been established by Dick Kemper in 1993. Before that he has already built up an extensive experience, firstly as a musician, later on also as an engineer and co-producer in top notch studio's both at home and abroad. Here he had the opportunity to work with world famous producers.
Musical carreer
Dick's musical career started in the early 1970s in Doetinchem as a bass player with Threshold.

The band also consisted of drummer Jan Mourik, his brother Paul (later guitarist with Normaal and Boh Foi Toch) and Bert Heerink, the singer with whom he also formed part part with in Vandenberg.

After that bands bands like Turbo (with whom he recorded 2 albums). At that time be became a professional musician.

He acquired international fam as the bass player of Vandenberg. The band consisted of guitar player Ad van den Berg, Jos Zomer drums, singer Bert Heerink and Dick on bass off course.Initially it did not seem that Vandenberg would become world famous. The first gigs were perfomed under the the temporaty name of Teaser. They looked desperately to find an agent that found them hot enough to berought under their wings and management..
World hit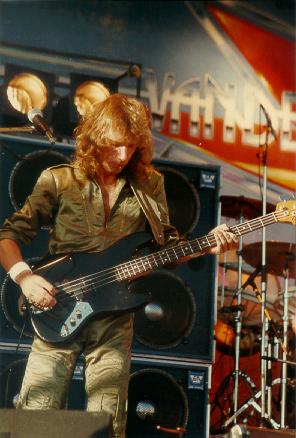 In the early stages Dick Kemper organized the bookings and gigs himself. With the help of a 4 track demo tape they finally managed to find record label Atlantic being interested in the band and were able to strike a world wide record deal with them.

Various names were considered, a.o. Kamikaze. In the end it became Vandenberg, named after the US Air Force base near Los Angeles .

In 1982 en 1983 Vandenberg started recording in Jimmy Page's studio(of Led Zeppelin fame). Kemper built a wealth of experience there by co-producing the first. In October that year the self titled first album is released yielding the world wide hit single Burning Heart. With an album out and a hit single in the charts all over the world the band embarks on a tour, playing with Michael Schenker Group, Ozzy Osborne, Kiss and Rush; Interesting fact is that Vandenberg has had Metallica as opening act once. Later on the band completed 2 successful tours in Japan.
Top-producers
When in 1986 Vandenberg falls apart, Dick keeps playing bass in band such as No Exqze and Undercover. He also keeps on working as a producer and engineer at various studio's at home and abroad. Here he worked closely with fellow producers such as Tony Platt (AC/DC, Iron Maiden, Gary Moore), Stuart Epps (o.a. Led Zeppelin, Robbie Williams, Elton John), Michiel Hoogenboezem, Jaap Eggermont en Gordon Groothedde.

In 1992 it was time to start building his own studio. Located in one of the most beautiful spots in the Netherlands and the fringes of the city of Doetinchem, the S&K studio looks out over the forests of Het Geldersch Landschap. (similar to National Trust Heritage sites)
S&K Studio
Dick's own band, Undercover, was one of the first to benefit from the newly built studio to record their album there. To date many acts have found their way to the extensively equiped S&K Studio in Doetinchem. Soon after it's inception, other bands like Big Generator, The Gathering, Vengeance started recording at the S&K Studio.

Also bands like Batmobil, Normaal, Focus, Kayak, Jovink & de Voederbietels, Mooi Wark and Intwine discovered the superior qualities of the S&K Studio.
Quality First!
Next to his skills as a Multi-instrumentalist musician, Dick is more than capable to support the band and add just that bit more oomph to the final product. Quality comes First, underlines Dick. To his experience, only if you strive for the highest possible quality a band is able to progress..

As a consummate musician, recording and producing bands and artists remains the core of Dick's studio activities. For this reason he also established a record label, called Green Street Records.
Film music
Dick is also successful in writing and producing of Music for television and movies. Both at home and abroad many TV- and movie productions from the S&K Studio are widely used, f.e. the Oprah Winfrey show. The title track from the Dutch movie, De Dominee (Cruel Man by Intwine) also has seen the light at the S&K Studio.

In 2004 Vandenberg promotes the album The Definitive Vandenberg. The reunion was instigated by a Dutch documentary for TV called Single Luck, which describes the worldwide hit single Burning Heart. This was followed in 2005 with a DVD, Live in Japan. ThisDVD also contains various extra's.

In 2007 Dick Kemper performed at a sold out venue Classics in Rock at Ahoy stadium in Rotterdam.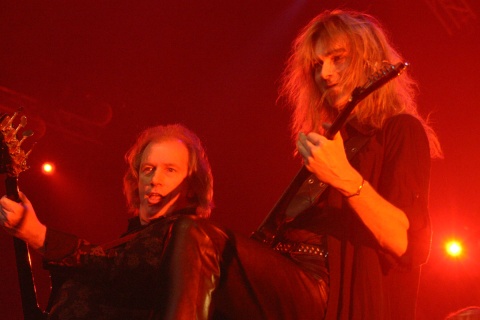 Ahoy 2007 - Classics in Rock, Dick Kemper with Arjan Lucassen.

Text Gerard Menting